Yours, Mine, and Ours – Redux
The World Wide Web was conceived, from the start, as a social medium: as a space for virtual collaboration. Although it was dominated, during its early years, by the one-to-many broadcast model which preceded it, the Web has been evolving toward its potential as a social space for meaningful interaction.
In many ways, the Internet more resembles an ancient bazaar than it fits the business models companies try to impose upon it. Millions have flocked to the Net in an incredibly short time, not because it was user-friendly — it wasn't — but because it seemed to offer some intangible quality long missing in action from modern life. In sharp contrast to the alienation wrought by homogenized broadcast media, sterilized mass "culture," and the enforced anonymity of bureaucratic organizations, the Internet connected people to each other and provided a space in which the human voice would be rapidly rediscovered. — The Cluetrain Manifesto, 1999 (Image from Paul Irish via Flickr Creative Commons.)
At Bates, we've developed a blueprint which approaches the entire bates.edu domain from the perspective of social experience, drawing our constituents from general awareness of the College toward deeper social and personal interaction based on shared interests and common intellectual passions.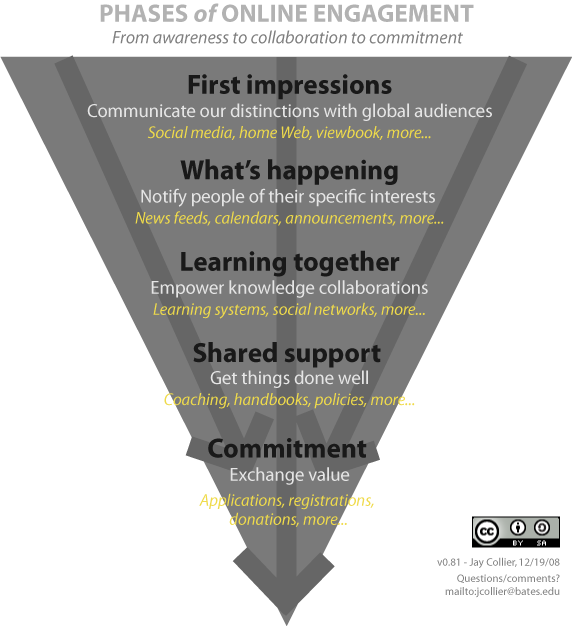 We know that Bates' online identity — the sum total of what people know about us on the Web — comes, more and more, from the experiences created out on the wild Web, as well as the official content we produce ourselves. By approaching the Web as social participants — as hosts and connectors — we can better enhance Bates online experience.
"Mine" — Official Bates content
It is important that we publish our official experiences of Bates — text, images, audio, and video — in ways that people can view and subscribe to, wherever they are on the social Web. In overhauling Bates' top-level Web architecture, we transformed content into a blog format, with timely notifications available for numerous topics and every story.
We deliver updates to those official stories — immediately, daily, or on demand — through Twitter, Facebook, e-mail and RSS, and SMS texting. Presenting the Bates experience in this format also helps people find and use our content via search engines and social media services.
By identifying a new content platform and migrating official department and office sites into it, we will be able to make more of the Bates experience available to people where they already are, rather than requiring they come to us.
"Yours" — Bates' identity on the wild Web
Anyone with broadband access can publish Web content of many kinds — text, images, audio, video, animation, maps — at almost no cost and with little effort. (Nevertheless, the uneven distribution of Internet access is a concern of which we must remain aware.)
Some of that user-generated content is about Bates people, events, and stories. Some is produced by Bates-affiliated people and organizations, such as the Bates Life blog from Admissions, the Online Media blog from Web Communications,  the LinkedIn group from Alumni and Parent Programs, and blogs from the Dance Festival and Outing Club. Other content is posted by prospective students and parents, professional colleagues, and unaffiliated friends, including dozens of Facebook groups.
We pay attention to mainstream media, the blogosphere, and the Twittersphere for content about Bates — via open tools like Google Alerts and Twitter Search — and share it with Bates people, as soon as possible. This allows us to identify trends and determine how to participate effectively.
"Ours" — Curating content by and about Bates
Along with making our content useful, engaging, and findable on the Social Web — and paying attention to what Bates people publish about our College — we have countless opportunities to participate in co-creating online experiences about Bates. Determining the most appropriate kind of involvement — from interpersonal to group to public participation — requires knowledge of each environment and people involved.
By way of example, here is how I evaluate each alert I receive:
If I learn about something of interest to a particular Bates constituency group — such as a compliment about our sustainability efforts — I forward it to the most appropriate Bates person.
if I receive an alert about something of uncontested interest to the global Bates community — such as a blog post or video clip created by a Bates person — I place it in our social Web stream, which goes out into social media sites, including Twitter, Facebook, YouTube, and NetVibes. (These official spaces are linked from the bottom of every page in our new Home/Views sites.)
If I have an opportunity to contact the person who created the content, I will do so to share my appreciation of their work.
We've worked hard to get this far on the Social Web … but we've only just begun. Stay tuned.